Socints is a new social networking site that allows you to meet people and be social, and in return you earn points that you can use to buy rewards. Here is my review.


How it all works
The site lets you sign up and interact with other members. As you socialize you earn points. Here are the activities you can do on the site as well as the allocation of points: Sign In (5 points), Update Status (3 points), Update Mood (2 points), Message a Socint (5 points), Profile Comment (5 points), ChatRoom (5 points), Topics (3 points), Topics Comment (2 points),Groups(3 points),Groups Comment(2 points), Polls(3 points), Polls Comment (2 points), Rate (3 points), Rate Comment (2 points), MyLife (3 points), MyLife Comment (2 points), Event Comment (3 points).
This gives you a grand total of 53 points per day
. Other ways to make points are to upload a special profile picture featuring yourself with your username and Socints website name. It can not be edited in (5 points), and the refer people to the site (100 points).There is no tiered referral system.
The Rewards
There are 2 types of rewards, Raffle and Purchase. You can use your points to buy raffle tickets or you can just purchase the reward. The rewards consist of: 2000 socint points, $10 credit to PayPal, 4GB Apple Ipod Shuffle, 8GB Apple Ipod nano, $50 credit to PayPal account, or $10 credit to Alert Pay account. Not bad. The prices are different depending on whether or not you are purchasing a raffle ticket of buying the reward. Point cost ranges from 150 points to 7500 points.
My Rating
The site is small, and is still growing. I think that their needs to be more rules edited onto the site so that spamming is cut down. I wish that there was a forum board, as right now there is only a live chat option. To get a $10 cash payout to your paypal you have to have 7500 points. (7500/53points per day= 142 days) Now you can also refer people, but you would have to refer at least 75 people to earn $10. I think that as the site grows, it may be possible to earn points faster. I do not believe it is a scam, here is a picture of payment from Socint (not myself)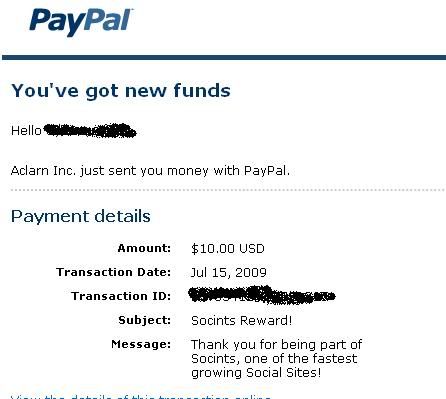 Overall, I feel that if you like social websites, if you have the time each day to accumulate the points (10 mins), or have friends that you could refer to earn points, it can be somewhat beneficial. My final rating is that it is harmless. Below is a link to the site, If you join, don't forget to add me as a friend (username: shevaix)